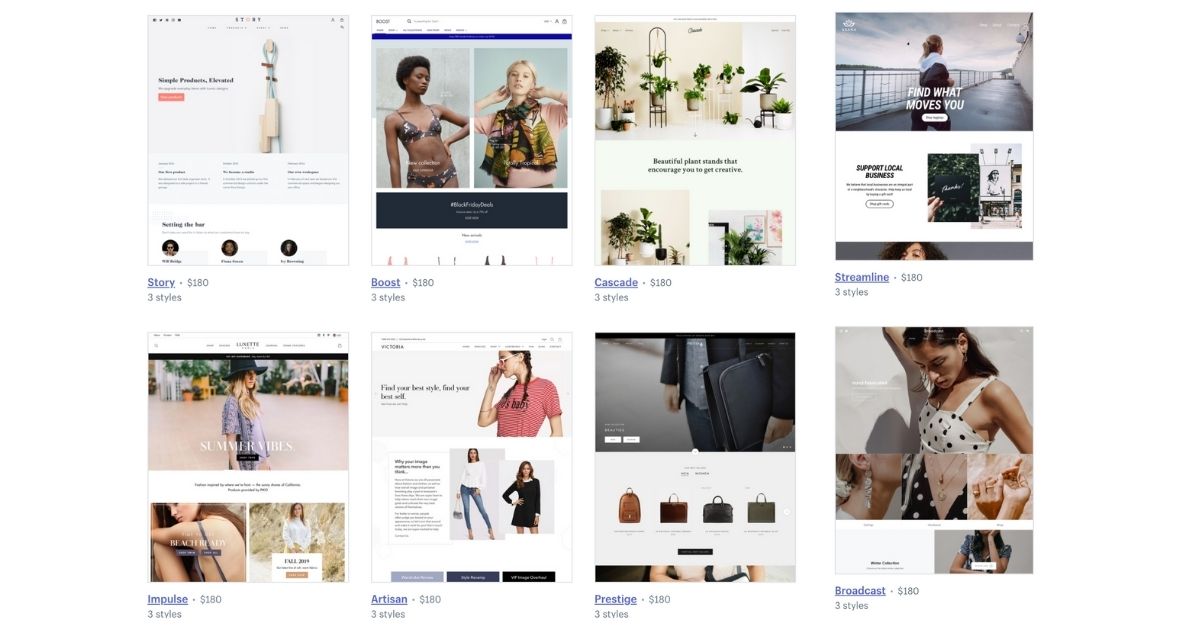 What are Shopify themes?
Shopify themes are e-commerce specific templates that you can use as a foundation to design and develop your online store.
Shopify theme costs
The Shopify theme store offers both free and paid themes.
Free themes are themes that Shopify has designed and developed. Paid themes have been designed and developed by 3rd party vendors.
Free themes tend to have less bells and whistles and simpler designs.
Shopify theme types
The Shopify theme store offers a range of theme types for a range of:
Large inventories - if you've got lots of products
Minimalist - looking for clean and simple? Start here
Big, beautiful imagery - if you've got beautiful images
Grid-style layout - products arranged in grid format
Themes with sections -
Shopify theme industries
Sorting Shopify themes
There are five ways that you can sort themes in the Shopify theme store:
Most Popular
Most Recent
Price (low to high)
Price (high to low)
Alphabetical
How do you pick the right theme for your store?
Here are some tips:
1. Design is personal
We don't all like the same designs. You need to pick a design that you think reflects your brand and stay true to it.
2. Follow the experts
Big brands and big online stores spend thousand of dollars designing, testing and tweaking their websites. Their sites look the way they do because it works. Don't try and be clever with your site. Choose a theme that sticks to ecommerce norms – nothing too new and funky as it can confuse your customer.
3. Images are everything
Some themes rely more on images than others. For example some themes have one main image that covers the entire screen above the fold. For a site to look good with this theme it will need to have killer images. If you don't have killer images, don't choose this theme. Choose a theme that relies on a larger number of smaller images.
4. Get functional 
Before you make your final decision on a theme make a list of the functionality that you would like the store to have. Visit other sites you love and write down the must have features for your store. A lot of the must have features are discussed in this manifesto so you can use this as a checklist. Then cross reference this list against your short list of themes. Try to pick the theme that has most of the your must have features already packaged into the theme. It will save you time, money and improve your customer experience.
The Essentials
To help you reduce the number of choices – here are some key elements that your theme must have or be:
Responsive
Your site needs to adjust its layout for different screen sizes. This ensures that there is a good user experience on all devices. Most of the Shopify themes are now responsive but double-check first.
Work on ALL major browsers
Your site needs to look good and work on all major browsers. Double check this by testing on all the most used browsers such as Chrome, Firefox, Safari and Internet Explorer.
Fast loading
Web users expect your site to load in 2 - 3 secs. Make sure the theme you select is fast to load and keep images clear but small in size. You can check the load time of a template using Pingdom tools.
Which template do we use?
We have chosen the Turbo theme (Portland) by Out of the Sandbox for The Hope Factory store because it is super fast and optimised for mobile.