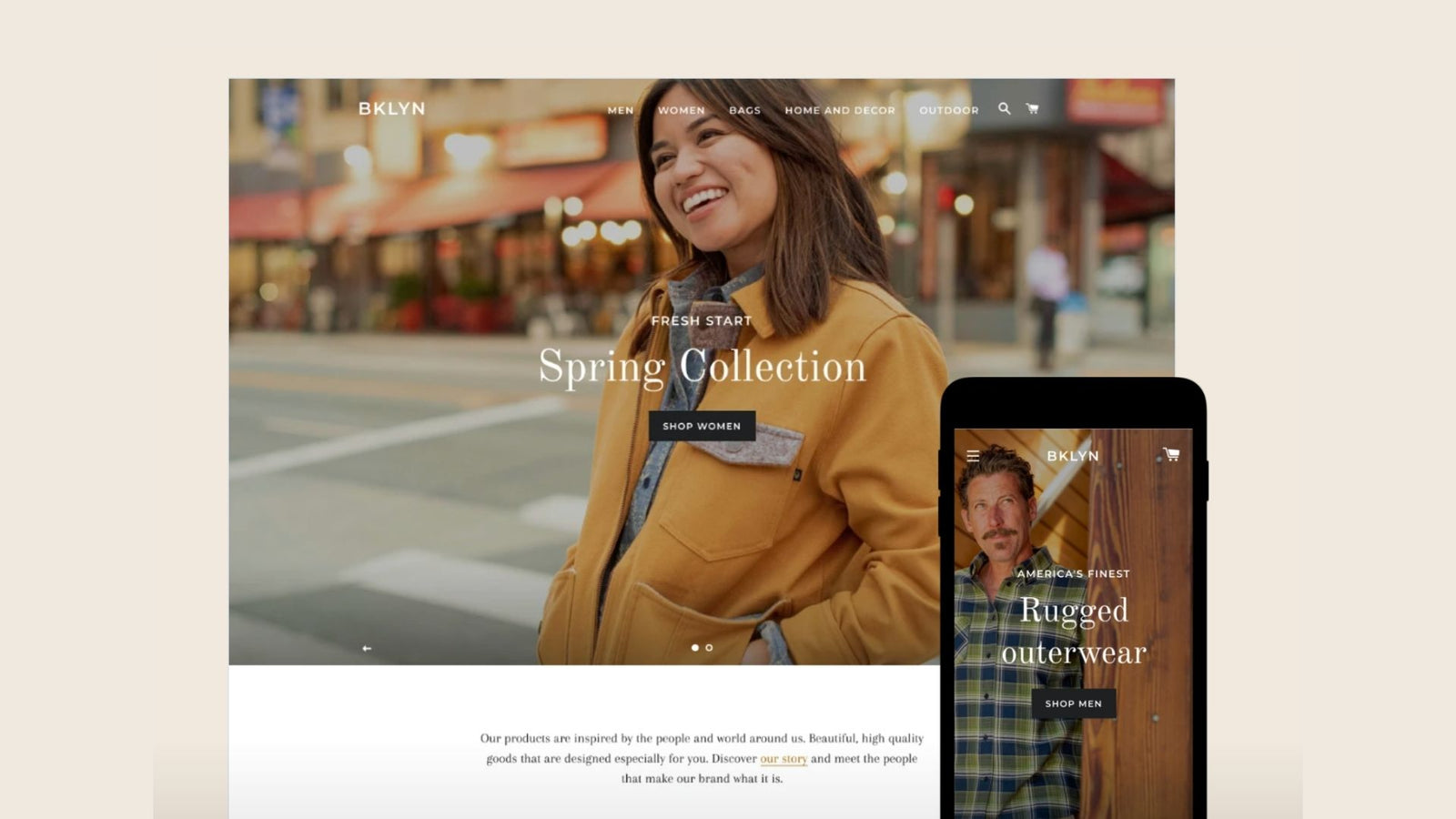 When it comes to starting a new ecommerce website, Shopify is one of the best platforms, especially for beginners. There are a variety of pre-made design templates, better known as themes, that help you launch your online store quickly. Many of these are free, but you can also access some fantastic paid themes without breaking the bank.
However, a quick Google search will reveal an overwhelming variety of themes available. How do you know which template is best for your online venture?
This article will explain the differences between free Shopify themes and paid Shopify themes, and explain which features to look for. Then, we'll explore some of the best free themes and paid themes available right now so you can grow your ecommerce business the smart way. 
Let's get started.
What makes a good Shopify theme?
Main differences between free and paid themes
How to choose the right Shopify theme
Paid Shopify Themes Worth the Spend
What Makes A Good Shopify Theme?
Before diving into the best free Shopify themes in 2020, let's take a look at the essential aspects worth having.
Here are three things to look for:
Your Products And Content
Some themes are visual-heavy, whereas others are minimal designs that focus on a clean, clear user interface. Which will work for you?  
Customer Support
If you're a seasoned developer, you may be able to handle any functionality issues or customise them with a little coding. However, most Shopify users are beginners that want to focus on building their store. 
As such, it's vital that you pick a theme that has a good customer support system. Check out the reviews from other users to gauge feedback and see whether the theme developer is readily available when issues arise. 
Keep in mind that not all free themes are developed by Shopify. However, the platform's native free themes will come with the added advantage of having customer support from the Shopify team.
Mobile-Friendly Experience
Statista reports that mobile ecommerce purchases will account for 72.9% of total ecommerce sales by 2021. If your online store isn't mobile-ready, you could miss out on the oncoming wave of M-commerce. 
The Shopify theme you choose should be mobile-first, or at least mobile-friendly so that it automatically resizes images and adjusts the layout depending on the user's device and browser. Ideally, your theme should facilitate mobile payments and simple one-touch checkout. 
Main differences between free and paid themes
You can choose between free or paid themes for your Shopify store. Shopify has a decent number of free themes that are modern and mobile-responsive. Most themes also offer three style choices, so you should be able to find one that fits your store's brand image.
Here are some of the advantages of free Shopify themes:
Demos
You can demo each theme to get a feel for it before making it live on your online store. With the demo feature, you can preview what the customer experience is like and get a chance to identify any glaring issues that could deter prospects or cause problems in the customer journey.
Choice and Flexibility
If you like to play around with different themes, it's great to know that you can change the theme, and your content won't be lost. 
Paid Themes in Comparison
Shopify's free themes are reliable, and they make it easy to get started. However, most of them are basic in design. 75% of customers judge a company based on its web design, which can be a big problem if you have a poor ecommerce website.
Paid Shopify themes offer more variety in design and more flexibility for customisation. Moreover, they have additional functionalities and features that enhance the customer experience, such as home page video, slide-out cart, and abandoned cart email sequences.
And, of course, the customer support level is better for premium themes. That being said, you can find great free Shopify themes that will work for your needs.
How to choose the right Shopify theme
There is no one-size-fits-all Shopify theme. By spending more time deciding on the right theme, you can ensure it delivers on your sales, marketing, and branding goals. 
Here are some considerations when browsing free Shopify themes:
Who your target audience is
To pick a Shopify theme that aligns with your target audience, you should consider:
Age - Think about your audience and the type of online experience they need. For instance, older people may need easy-to-navigate sites with larger fonts. On the other hand, millennials and Gen Z shoppers will like more interactive content. 
Likes / Hobbies - Do in-depth market research to ensure that the theme you choose reflects your target market's style. Are they new-age, urban, classic, or something else? Your site design communicates a specific image and can connect with a range of emotions relevant to the user's life.
Income - Using the wrong theme may deter your target audience. Your Shopify theme can communicate an up-scale image through higher costs, levels of service, and a professional tone. But if your theme is not aligned with your brand, it could spell disaster.
What type of experience you want to offer
Plug-ins, Apps, and Extensions - Many developers have created extensions and plugins for the Shopify platform. From lead generation forms to social media badgers and more, there is no shortage of add-on features to choose from.

Mobile Readiness- Having a mobile-ready site in 2020 and beyond is not optional. You are leaving money on the table if your website doesn't cater to mobile users. Instead of navigating through a clunky interface, they will leave for another store that is easier to use.

Simplicity or Complexity - If you want a simple, stripped-down store, you will have a faster website. On the other hand, a basic site with few features might not offer a compelling, modern web experience.

The website features you'll need to use
Filtering - The ability to quickly filter through product types based on size, color, and price, is an important feature if you have a large number of products. This is especially true for apparel stores. However, if you only have a small number of products, a product filter may not be needed.

Easy Checkout - Shopify has plugins to allow you to see who bounces from your checkout page. If your checkout is too confusing, customers may bounce even after they add products to their cart.

Product Images - What kind of product photos do you need to display? What size do they need to be? Certain themes come with pre-set sizes for images. If it doesn't accommodate your products, you need to keep looking for one that does.

Best Free Shopify Themes
Okay, it's time to explore the best free Shopify themes in 2020. Here are the Shopify templates worth considering for your ecommerce business:
1. Debut
Source: Shopify
The Debut theme usually tops the charts for free Shopify themes because it looks great on mobile and desktop. It has an almost retro feel, looking like a traditional blog or business website. Despite the minimalistic design, this theme boasts features for a wide variety of product types. 
Key features include:
Moving Slider - The slider holds multiple images so you can showcase your products or display a Vimeo video or homepage video promoting your brand.
Responsive - It is optimized for both mobile and desktop.
Testimonials - This theme includes a section for customer testimonials, which are a useful tool to increase customer trust. 
2. Simple
Source: Shopify
This theme boasts great reviews, and for a good reason. The clean and minimalist design is appealing to a variety of stores. You have three theme styles to choose from - Light (for traditional clothing products), Beauty (cosmetics, etc.), and Toy (for toys, as the name suggests). 
Key features include:
Sidebar Menu- The accordion-style menu makes it easy to display products and collections on your sidebar to increase click-throughs and sales.

Product Image Zoom - Customers can zoom in on your product by hovering over an image to get a closer look at the details.

Image Animations - Your product images animate right into the page to create a sleek transition effect and add intrigue to your products.

Product Recommendations- Allow customers to discover more products that they might have overlooked otherwise.

3. Brooklyn
Source: Shopify
This is an additional theme created by Shopify. The mobile-first responsive design makes for great navigation on modern devices. This theme is optimized for shops with a few products instead of a large catalog. 
Key features include:
Consistent Maintenance and Debugging - The developers stay busy keeping this theme updated with new web technologies, security, and APIs. This way, you don't need to worry about your site, breaking and losing sales.

Scaled Down for Smaller Inventory Selections - The slimmed-down code base means that this theme is minimalist, fast, and beautiful for a great customer experience.

Clean Navigation and Mobile-First Mentality - This theme ensures that everything works flawlessly on mobile devices.

3 Paid Shopify Themes Worth the Spend
If you're ready to level-up, or if you'd prefer more options for features and functionality, the paid themes below are some of the best money can buy right now.
1. Flex
Source:Out of the Sandbox
Flex claims to be the most configurable Shopify theme on the market, which makes it an attractive option for any site owner who wants creative freedom. The paid download includes 13 demo styles that you can use, and Flex enables CSS customisations so you can edit the store however you want.
Three Product Page Layouts -Choose between Classic, Image scrolling, or Sections layout to design your product pages in the way that works best for your brand.
Lots of Menu Options - This theme offers a choice of ten mega menus, with drop-down functions.
Extensive Icon Library -You can add icons to specific site elements, and the theme includes a comprehensive  icon list with all the built-in options available to you.
2. Turbo
Source:Out of the Sandbox
Turbo is a popular paid Shopify theme that offers reliable performance, high-demand functionality, and diverse flexibility for design purposes. In addition to top-notch performance and slick style options, this theme is incredibly fast.
Two-speed settings -You can select between the two performance settings—Ludicrous and Sport—to ensure your store runs smoothly, regardless of how much traffic arrives.
Smart page preloading -One of the best things about the Turbo theme is its ability to predict the next page users will visit. In doing so, it preloads pages, making for incredibly fast navigation and a better user experience.
Upgraded product layouts -Store owners can add unique sections, move product descriptions, and embed videos to create compelling product product grids that keep customers interested.
3. Superstore
Source:Pixel Union
Superstore is an excellent option for wholesale merchants, as it is currently the only Shopify theme that offers seamless integration with the Wholesale Club. With this app, you get access to exclusive, on-page wholesale pricing functions. For example, you can use AJAX cart actions to add products and change quantities without refreshing the page.
Optimised for large catalogs -The Superstore theme can support ecommerce stores that have huge catalogs and advanced inventory needs.
Dynamic promotional banner -Highlight business contact details, shipping policies, and latest offers with stylish icons.
Powerful navigation -Utilise the multi-column drop-down menus and quick links to drive customers through your sales funnel to the checkout.
Predictive live search- Accelerate conversion opportunities and offer an enhanced shopping experience with dynamic search results.
Wrap Up
Shopify offers excellent free (and paid) themes for all types of online stores. The one you choose will depend on your needs and the kind of experience you want to offer.
Think about your goals and what your customers will want. At a minimum, ensure your theme represents your brand identity, makes navigation easy for customers, and provides payment options that are secure and hassle-free. 
Lastly, remember that mobile is not just the future—it is now. Get a theme that is ready for the mobile age, so your ecommerce store offers a memorable online shopping experience that keeps people coming back for more.
If you need helping Designing your Shopify site, you can get in touch and speak to our Shopify experts.