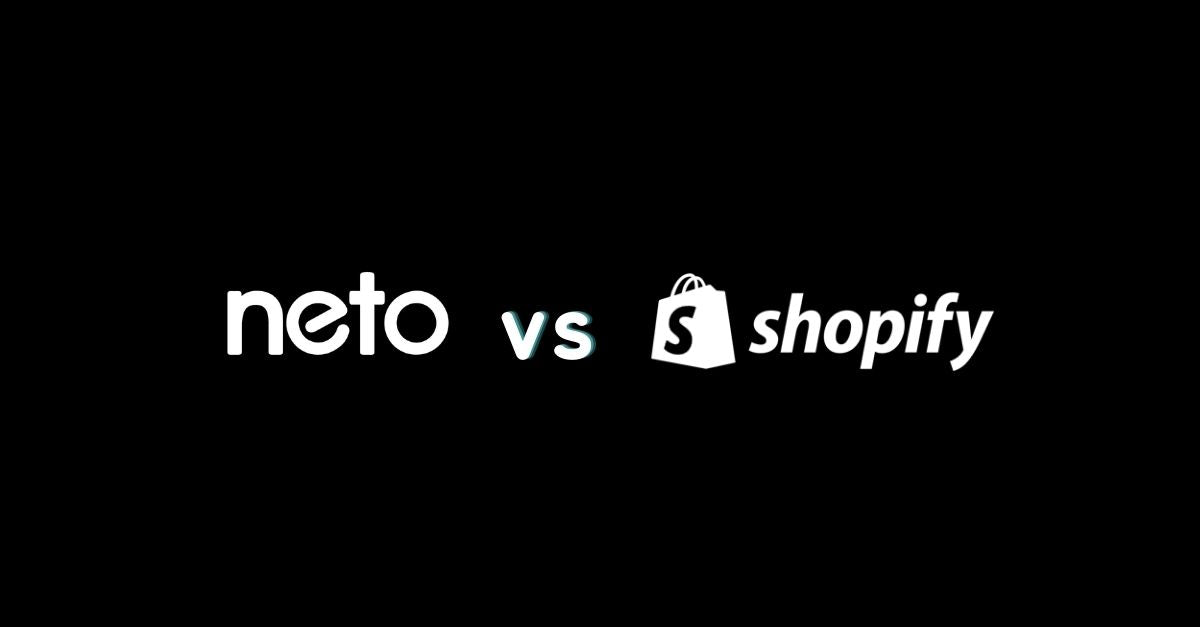 Choosing the right ecommerce platform can make or break your business.
You need software and support that fit your business needs, and serve your goals.
Ultimately, you should have a platform that offers the flexibility and scalability needed to succeed with an online store.
The undisputed king of ecommerce platforms in recent years is Shopify. But there's a new kid on the block - from Australia.

Neto is a hosted ecommerce platform going head-to-head with Shopify, offering Aussie business owners a new option, tailored to the needs of companies in Australia.

But is it the best choice for your business in 2022?
What is Shopify?
Shopify is the world's most popular ecommerce platform, having grown to power over one million stores since its launch in 2004.

This platform is an excellent choice for beginners, as you don't need any experience in coding or website design. As such, you can get started quickly, forget about tricky development processes, and simply focus on building your ecommerce business.

With Shopify, you can launch an online store in about an hour by using its intuitive drag-and-drop website builder tool, and by availing of the many preset ecommerce themes and design templates. For advanced features, you can download third-party plugins to improve sales performance and content marketing functionalities.
What is Neto? 
Neto is a B2B and multi-channel ecommerce platform that offers users an all-in-one solution for ecommerce, POS (point-of-sale), order management, inventory management, and shipping labels. This platform is the only one of its kind in Australia.

Integration is the core mission of Neto, as it seeks to minimise bloated tech stacks, giving retail business owners an easy way to centralise their operations. As a cloud-based platform, inventory, stock records, and contact lists are automatically updated with real-time changes.
What to consider when choosing an Ecommerce Platform
When choosing your e-commerce provider, it is important to consider the following:
Secure shopping cart

Scale

Free trial

Plans & Pricing

Transaction Fees

Shop themes

Customisation options

Gift cards

Mobile responsiveness

Payment gateways

Shipping

Support

Online store functionality

Order editing

Apps

Bricks and Mortar integration.

 
Comparison of Neto and Shopify

Function
Shopify
Neto
Winner
Secure shopping cart
Shopify is certified Level 1 PCI DSS compliant. This means all your data and customer information is ultra secure.

Neto is committed to protecting consumer credit card data in compliance with the Payment Card Industry Data Security Standard (PCI DSS).
Tie.
Scale

1M+ businesses

 

3,000 businesses

Shopify wins

⚡

Free trial

14-day

14-day

Tie.

Plans & Monthly Pricing (USD)

Basic - $29 (AU$40)

Shopify - $79 (AU$109)

Advanced - $299 (AU$410)

Basic - $79 USD (AUD$109)

Plus - $199 (AU$289)

Premium - $249 (AU$389)

On par, but Neto has additional charges for Amazon. Shopify wins.

Transaction Fees

Varies, but standard plan is 2.6% + $0.30 per transaction.

0% transaction fees.

Neto wins.

Themes

100+ themes

About 40 free and premium themes

Shopify wins

⚡



Customization Options

Can access source code for themes and edit with HTML and CSS

Requires advanced knowledge or hired developer

Shopify wins

⚡



Gift cards
Currently available on all plans

Available via an Add-On in the Neto control panel

Tie.
Mobile responsiveness

Excellent, with great mobile-first user experience.

Excellent.

Tie.

Payment gateways

100+ providers

About 10 major providers

Shopify wins

⚡

Shipping

Merchants in 175 countries, with dedicated shipping packages for all major markets, including U.S, Canada, UK, and Australia. Print shipping labels.

High-level partnerships in Australia. Only one international option, plus some partners in Asia. 

Print shipping labels.

Shopify wins

⚡

Support

24/7 live chat. Excellent, responsive customer services.

Phone and email. Can be slow.

Shopify wins

⚡
Online store functionality

Very user-friendly interface, streamlined for simplicity.

Messy navigation and complex system.

Shopify wins

⚡

Order editing

Only possible through an app integration.

Can amend orders before shipping.

Neto wins.

Apps

Vast app store marketplace with thousands of third-party apps.

About 90 add-on modules

Shopify wins

⚡



Bricks and Mortar integration

Great retail plan and POS software.

Excellent features for wholesale pricing and shipping tiers.

Tie.
Scale Comparison of Neto & Shopify 
Currently, there are around 3,000 businesses who use Neto, while Shopify has over 5.6 million merchants worldwide (as at May 2022

).

In terms of scale and market share, Shopify wins hands down.

This can be very reassuring for businesses who don't want to have to do a major migration in the coming years, as there's a lot to be said for experience, credibility and stability in the tech space.
Comparison of Free Trials offered by Neto & Shopify 
Comparison of
Plans
Shopify has three plans for merchants, starting at $29 (AU$40). The standard tier costs AU$109 ($79 USD) per month. In addition to this monthly fee, Shopify charges 2.9% + $0.30 for every transaction.

Use Shopify Payments and you will not pay any transaction fees. If you opt for an external payment gateway, you will incur additional fees of 2%, 1% and 0.5% for our Basic Shopify, Shopify and Advanced Shopify plans. Find out more by reading our guide on Shopify Pricing

Neto has three plans, starting from $109 AUD ($79 USD) per month for the small business plan. Unlike Shopify, Neto does not charge transaction fees for external payment gateways. Although, you should keep in mind that third party payment gateways like PayPal or Stripe will charge their own fees.

Like Shopify, Neto now also offers unlimited products on their plans. So, when you compare the standard plans of Shopify vs. Neto, the two platforms are almost even.
However, one caveat is that Neto charges an extra $49 USD per month to integrate Amazon, which is one of the key players on its small to large business plans. This additional cost is on top of the Amazon fee you will have to pay for having a professional seller account. Shopify doesn't add this charge.
Comparison of Shop Themes and Design 
Shopify is famous for its fantastic themes and designs

There are hundreds to choose from and they're easy to customise so you can express your own brand and style with ease
A number of third party platforms also sell both Shopify and Neto themes.
Neto recently changed the pricing for its themes, but they are still slightly more expensive on average than Shopify, with fewer free options for merchants.
Pricing for Neto and Shopify paid themes are comparable, and the average price for a one-off payment to buy the theme from Neto is $299 AUD, while Shopify themes are a maximum of $255 AUD. Neto has around 40 free themes available.
The reason Shopify wins out here is they have some cheaper paid them options, whereas mots of Neto's sit at the same price, with no cheaper options.
But it's really got to be said that the Neto themes, while serviceable, aren't anywhere near as attractive as the Shopify ones. In fact, they're already quite outdated.
We're handing Shopify the design win by an absolute mile.
Comparison of Theme Customisation
Shopify is great for developers who want to get in there and implement their own CSS and HTML code, and the Liquid programming language is a breeze for developers to work with.

Shopify theme designs are so solid that this isn't necessary unless you've got some specific concepts in mind (Need a custom theme design, talk to us!).

Neto is a lot trickier and the bottom line is you'll need to hire a developer to customise your site.
This counts when the theme designs aren't great to start with and you could end up with a very sizeable 'start-up' build bill with Neto.
Comparison of
Mobile Responsiveness
Both providers have a focus on mobile responsive designs, which is critical in today's online trading environment.

While both offer a good mobile experience, our personal opinion is that Shopify themes are aesthetically better, and this can enhance the user experience. Saying that, this is a subjective point, so we've called this aspect a tie. 
Comparison of
Payment Gateway Options
Shopify works with over 100 payment providers, including major credit card companies like American Express and Visa, as well as payment processing systems like Stripe.

Neto appears to offer around ten of the major gateways and while we're sure gateways will continue to be added to their mix, for now, Shopify wins this one.
Comparison of
Shipping Options
Neto, as expected, has Australian shipping covered.

Neto partnered with AusPost early on and plugs in seamlessly with eParcel as well as other popular Aussie shipping companies.

Neto's shipping features are excellent and allow you to streamline order fulfilment and dispatch process by automating your shipping, quoting, labelling, and manifesting with their multi-carrier shipping system. There are around 30 shipping courier partners listed on Neto's website, with only one international option and a couple delivering to Asia and the US.

Neto is doing a fantastic job on the shipping front, but it's also got to be said that Shopify has a comprehensive international pack that also supports Australian shipping.
You may need to invest in a few apps to get the same level of complexity or functionality as Neto, but if your shipping requirements are basic, you simply don't need the whole Neto 'box and dice' and Shopify out of the box will nail the brief.
Support 
Shopify has great customer service, with a 24/7 support team and a live chat function, which, in our experience, is excellent.

Neto has a local support team who operate on a 1300 number from Brisbane, but despite being local, we've found Neto support to be slow. The only other option of support is by email or help articles.
Comparison of Online Store Functionality 
The front end, which is what the customer experiences as they shop, is comparable between Shopify and Neto.
Both platforms perform well and showcase product features and photos effectively. 
The back end, however, is a different story. Shopify is incredibly easy to use, no matter what your skill set. From uploading new products to processing orders, it's fantastic.
We can't say the same for Neto, which has a messy back end and is really hard to navigate and use, especially for new users.
Shopify, by design, is set up to be a user-friendly platform that does a lot of the heavy lifting involved in running an ecommerce business.
You can use free or paid Apps to automate many manual processes and workflows, such as collecting emails, compiling analytics reports, processing orders, and running social media ads.
While Neto has automation capabilities and Zapier integrations, the range pales in comparison to Shopify.
This is another stand-out win for Shopify.
Comparison of Order Editing
Here is one area where Neto stands out, especially for potentially complex (and large) wholesale orders.

Up until the point of shipping, customers who order via a Neto site can log in and amend their order.

Shopify doesn't offer this as a native option, but it can be done via app integration.

We've got to give this one to Neto.
Comparison of Apps 
Apps are handy pre-built chunks of code that give you extra features and functionality without needing to build them from scratch.
Shopify is, again, a winner in this head-to-head, as it has a massive App marketplace with thousands of Apps created by third-party developers. These apps allow you to

really customise your site and increase its functionality with a few clicks. For example, you can add apps to trigger abandoned cart emails, use a chatbot, or to increase sales through A/B testing. Keep in mind that the majority of Apps have ongoing costs which are currently quoted in US dollars.

Neto calls their native apps 'add-ons' and external apps are called 'modules'. They have around 90 available currently. We've stepped through the Neto module installation process and it is complex to get them successfully installed and working. 
The big advantage that Shopify has in this area is that whenever a need for App surfaces - someone develops it. This is because the Apps aren't just native to Shopify, so users don't need to wait around for an in-house developer to update the platform—chances are, a developer is already on the case. As such, Shopify practically has an App for everything you could wish for when running an ecommerce business.
If you want to keep things simple and have lots of choices, the Shopify App store has this marketplace nailed.
Comparison of Bricks & Mortar Integration
Shopify has a great Retail Plan and offers POS hardware to get you trading in stores, markets and events.
Neto has a solid offer here as well, so both platforms will have you covered with the minimum of fuss.
Looking at the big picture, Neto is a solid platform for wholesalers who need a more complex set of wholesale pricing, shipping tiers and the ability to edit orders after they're placed.
Shopify can do the same with more App integration and development work, but Neto does it 'out of the box'.
For theme design, site speed, scale, ease of use (especially for people who need to hit the ground running), ease of customisation, service and support and overall functionality, we've got to give it to Shopify overall, and by quite a large margin.
There's a comfort in working with a very well-established, world-leading platform when it comes to your business because no matter how much we might like the idea of supporting an Aussie up-and-comer, Shopify is the safest and better bet.
Looking to re-platform or build a new Shopify store?
When you're ready to either migrate your Neto site or start from scratch on Shopify, we'd love to help.
Click here to book a call with Andrew to discuss how to grow your business on Shopify or Shopify Plus.