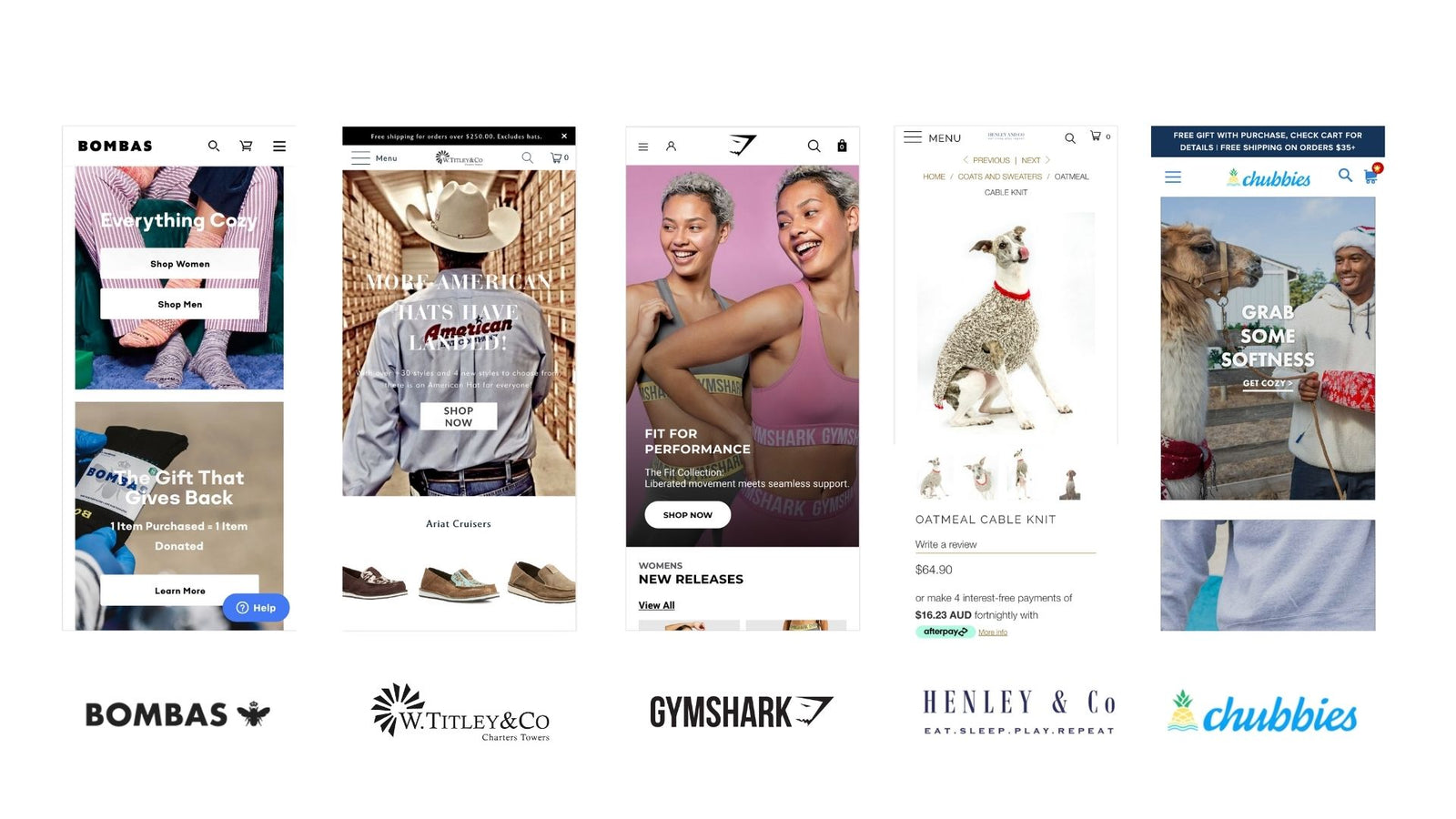 There are plenty of Shopify success stories that tempt new entrepreneurs to the platform to see can they strike gold. The promise of success is as enticing as ever, and Shopify is the perfect platform for ambitious merchants, giving them a one-stop-shop that makes it easy to create and launch a store.
While there are famous success stories like Kylie Cosmetics, founded by Kylie Jenner, there are also lots of successful Shopify stores from everyday people who didn't have the backing of a wealthy family and top-tier suppliers. You don't need to be Amazon, nor do you need to be a billionaire to be successful in ecommerce. However, there are still challenges you must overcome.
In this article, we'll discuss five Shopify success stories, showing you how each brand recognized their weaknesses and set out on a mission to turn their business around.
While there is a lot to consider when running an online store, we hope these stories inspire you to pursue your business goals on Shopify.
Gymshark
Ben Francis launched Gymshark at the tender age of 19. When he couldn't find any gym gear he wanted to wear, he made his own. Turning to the sewing skills his grandmother taught him, he bought a sewing machine and a screen printer. Within six years, the company was worth $120 million.
Challenge
The incredible growth of Gymshark was something Ben and his team weren't prepared to handle. Initially, they opted for Magento, feeling it offered the business a platform to scale on over time. Unfortunately, the advanced nature of that platform held production back in a big way. 
"It took six to eight months just to build the site," Ben recalls. "By the time the site was finished, we had doubled in size and had already outgrown the site."
What's more, is that Magento isn't a cheap platform. Gymshark spent six figures on a bespoke site. So, they expected results. But then, on Black Friday, the site crashed for eight hours, costing the brand about $180,000.
That disaster was the final straw, and less than a year into their partnership with Magento, Gymshark knew they needed a new platform.
Solution
With the Shopify POS system, the brand can enhance the omnichannel experience, bringing digital and physical touchpoints together. Gymshark customers can follow-up their online interactions with the brand to meet fitness idols and make exclusive purchases in-person at the company's special events.
Overall, Gymshark's Shopify store has a fantastic design, with clever, minimalist copy that lets the products do the talking. There is excellent photography, allowing would-be customers to get the full view of clothing products and sizes. 
The website has seamless, easy navigation, making for an enjoyable online shopping experience. The site also utilizes Shopify Scripts to customize the checkout, and also to offer customers complimentary gifts, which are great incentives to build brand loyalty.
Takeaway
By putting their trust in Shopify Plus, the Gymshark team has been able to focus on growing the brand, rather than worrying about technical difficulties. No matter how big the company gets, Shopify can support its rapid growth. With Shopify at its back, Gymshark generated almost A$74M in sales in 2017.
W. Titley & Co.
Established by bootmaker William Titley in 1926,  W. Titley & Co. is an Australian premium country & western apparel company that provides customers with quality clothing, footwear, and accessories. This family-owned business has expanded to five retail stores in Queensland, and its inventory comprises over 30,000 items of clothing, boots, hats, and accessories. 
Challenge
After joining Shopify, the biggest challenge for W. Titley & Co. was to get more  returning buyers. They wanted to expand their business and encourage shoppers to return to their Shopify store. In doing so, this would enable the company to collect more valuable customer data.
As an evolving business, they migrated their online store from Magento to Shopify to better suit their need for increased functionality. 
While the shift benefited the company in many areas, the team at W. Titley & Co. struggled to make the most of the platform and desperately needed a strategic vision that would enable them to offer a better customer experience.
Solution 
Titley & Co. partnered with The Hope Factory to improve their ecommerce business. After a website performance audit, we helped W. Titley & Co. elevate its brand with a new Shopify theme and a redesign that made it possible for the company to benefit from the platform's latest features and apps.
Through regular analysis of conversion reports and purchasing behaviour, we were able to identify gaps and make targeted modifications. The website navigation was a major overhaul, where we made several key changes:
Built a custom mega menu

Used the Shopify theme's predictive search feature 

Redesigned the layout of product pages and category pages

Highlighted vital info on shipping and payment options
Along with these structural changes, we implemented an alert for out-of-stock product sizes that automatically notifies customers when their desired items are back in stock. 
Also, we partnered with a search engine optimisation (SEO) agency to help the Titley team create well-researched on-page content that would drive brand awareness and organic search traffic.
Takeaway
The new website delivered a significant performance boost. Analysis after the launch found that the new site generated an impressive uptick in total sales and returning customers:
177% increase in returning customers

108% increase in online orders

96% increase in revenue

54% increase in conversions
Furthermore, they also gained valuable working knowledge on the Shopify platform to boost revenue and deliver exceptional customer experience during the process.
The Titley team leveraged SEO strategies that helped them optimise their ecommerce store. As a result, they were able to increase their organic traffic by 28%.
"The redesign has definitely increased our sales; the site looks better, it functions better. I think it's a better user experience, and a lot easier to use and to adjust the look and feel of the site." - W. Titley & Co.
They were also able to solve their preliminary issues related to linking Shopify to Facebook Business Manager and uploading products to a catalogue. Due to these optimisations, the company's advertising returns skyrocketed, eventually generating a 40X Return on Ad Spend (ROAS) in May 2020.
Ultimately, this focus on designing an easy-to-use website and user experience has helped W. Titley & Co. attract lots of happy customers, and drive incredible growth across many vital metrics, including conversions, online orders, and revenue. 
Chubbies
You don't have to be a college dropout to start a successful Shopify store. Kyle Hency, Preston Rutherford, Rainer Castillo, and Tom Montgomery made it across the graduation stage at Stanford before they created Chubbies in 2011. 
Soon after, their fun-loving men's apparel brand outgrew its online roots to open stores for lovers of vintage shorts, comfortable swim trunks, and Hawaiian shirts. However, before they walked off into the sunset, the Chubbies had a lot to do.
Challenge
Chubbies was entering a competitive market with a product that, while novel now, had seemingly gone out of fashion some 30 years previous. If this idea was going to gain traction, the team needed to focus on building the brand, growing its community, and experimenting with some clever marketing to stand out from the pack. 
They couldn't be bogged down by a slow site or have their time consumed trying to figure out technical problems.
"We've been with Shopify from day one,"  Montgomery explains."None of us are engineers, so it's great to be able to rely on Shopify's experts so we can focus on innovating."
Solution
With the ecommerce platform running smoothly, the team made branding and product design their top priorities. One of the smartest moves was to recruit loyal customers for content, which helped develop social proof and brand awareness in a short amount of time.
The site is optimised for mobile shopping and offers instant checkout savings and promotions, as well as free shipping. Also, with Smart Filters and Search in the reviews section, it's easy for people to get the guidance they need from previous customers. 
Takeaway
The best part of the site is that Chubbies doesn't interrupt users with sales messaging and pushy CTAs. Instead, they let their customers do the talking through user-generated content and customer stories. As such, they appear less as a business, and more as a lifestyle brand that just happens to sell cool shorts. It's working, as the brand's massive social media following contributes to a year-over-year sales growth of 50%.
Henley & Co 
In 2017, Kate Brown founded Henley & Co to provide fellow dog lovers with a collection of dog beds and accessories. 
The Melbourne mum is passionate about rescuing animals in need and has aligned her brand with these noble causes. Henley & Co is regularly active in charity campaigns and is an official Corporate Supporter of RSPCA Victoria. 
Challenge
Just a few short months into the entrepreneurial world, Kate realised that running an ecommerce business on Shopify was perhaps not as straightforward as she had anticipated. 
"I'm just completely computer illiterate. I had this sort of vision with Shopify that everything would be fairly easy to set up. But despite all that, we just ran into a lot of problems," said Kate.
While the standard Shopify platform has plenty of themes and features to choose from, Kate felt she needed additional functionality. 
As online sales started to dip, it was clear that her best efforts at creating a site were leaving visitors frustrated. While she was comfortable with a marketing email or engaging with people on Twitter or YouTube, Kate knew she needed some help from someone with a little more expertise in building websites.
Solution
After some research, Kate came to The Hope Factory to get the assistance she needed. With her goals in mind, our team designed a new Shopify store that is a joy to navigate. With a mobile-first approach, the new site looks great on any device, and customers can easily search and find any product.
The key changes included:
Fresh design focused on user experience

Simple search functions

Personalised order feature
With these fundamental changes, Henley & Co became a much more effective, efficient site.
Takeaway
After launching the new website, the impact was evident, as sales figures surged fivefold. This impressive growth was a direct result of the attractive design and engaging user interface.
As well as improving the site design, our team trained Kate so that she now feels confident in managing her website on her own. Going the extra mile for her, The Hope Factory has helped Kate feel more in control of her ecommerce business.
"They would actually send tutorial videos and train me, so for someone like me, who is completely computer illiterate, I learned a fair bit. I've been able to make a few changes to the website myself since they've completed the job. I've also learned a lot about how I can manage the website moving forward as well, which is great!"
Bombas
When David Heath and Randy Goldberg discovered that socks were the most in-demand item at homeless shelters, they felt compelled to help. Setting out on a mission to create better quality socks and donate to a good cause, the Bombas co-founders sought investment on the TV show, Shark Tank. 
Challenge
The appearance on Shark Tank drove thousands of potential new customers to the Bombas website. But before the guys could convert them, the site crashed. Customers were unable to check out and eventually left, many never to return after an unfortunate first encounter with the brand. Worse still, the same thing happened when the Shark Tank episode was rerun at a later date!
The site wasn't designed to handle the influx of traffic, and in just a matter of minutes, the faux-pas cost Bombas $15,000 in lost sales. Furthermore, the company had to pay hefty fees for server maintenance to safeguard against future crashes.
If Bombas was going to ride the wave of its media spotlight, it needed a more reliable website. 
Solution
Bombas switched to Shopify Plus, recognised its ability to help the company scale easily. Now, the company has access to a user-friendly back-end system where they can perform mass product uploads quickly, across multiple ecommerce channels.
With charity at the heart of this business, Bombas has a feel-good website that delivers on the brand's 100% happiness guarantee. In addition to bright, fun products, the site has a clear, fresh interface, with well-organised pages, and fast loading images. It's everything you could hope for when shopping, with socially-conscious perks!
Moreover, the sock business now has a stable website that can withstand peak traffic times, including Black Friday and any time after the Shark Tank episode airs. 
Since the switch, the company estimates it saved $108,000 in platform costs in the first year.It also grew 300% year-on-year, to earn $17.2 million in sales in the first full year after moving to Shopify Plus.
Takeaway
Bombas goes beyond the balance sheet to make a social impact that can change the world for the better. Now, the company has a reliable website that gives the team a chance to promote its mission. 
As of 2019, CNN reports that Bombas generates over $100M per year—and the company continues to donate a pair of socks for every pair sold online! 
Wrap Up: Success Comes Down to Marketing Strategy
Making it big on Shopify is by no means a guarantee. With high competition in almost every niche, it can seem impossible to stand out. Even with a great blog and active social media presence, your retail journey can crash and burn if you don't have the foundation for success. 
The key to becoming a sustainable, successful ecommerce business now is to create a solid strategy that focuses on establishing a strong brand identity, specific goals, and incredible customer service.
With these tenets to keep you on track, you can design a site and offer a customer-centric shopping experience that makes people fall in love with your website, and your brand. 
Best of all, these principles can work for virtually anyone. We hope these Shopify success stories have given you the inspiration you need to see that you can do it. 
Do you want to be the next Shopify success story? 
Contact us
and let's win together.